Gyspy wanted to spread some Holiday cheer
So this Christmas thing has really been throwing off my bogging game. Its getting down to the wire and I have been running around, wrapping, baking cookies and a teeny bit of crafting before the big day is here.
Last night we got to relax a bit. For the last few years we host a holiday movie marathon and provide delicious noms. This year we made a ham, potine (french fries, cheese & gravy) which was pretty amazing. Tim also brewed up some eggnog. I was never was one for the stuff, it always looked like gross sour milk. Not this kinda nog.. it was so good!
As for feature presentation we had a few options including Jingle All the Way, Home Alone 2 and Pee-Wee Herman's Christmas Special. We ended up going with Die Hard (yes its a christmas movie) and A Very Harold and Kumar Christmas.
A lot of people forget that Die Hard is a Christmas movie but it does indeed taking place on Christmas eve so Hippi-Kai-yay Father Christmas! Harold and Kumar was really funny, but in a self-aware ridiculous kind of way. It also left me with a desire for a Waffle bot.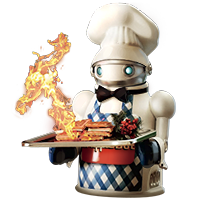 I have also had Christmas music in heavy rotation. One artist that always is a holiday favorite is Sufjan Stevens!!!!
I absolutely love Sujfan Stevens and this year was ecstatic to discover that he released a new Christmas album! I have been playing it non-stop. I also love his older christmas album too.. here is my favorite song from that album. If you have never heard of him or his music you must! Right this very second!