Hey there blogging buddies... its been a while. Hows things ? Here is what I have been up to lately....
I've been on a bit of a reading roll lately. I felt like a bad librarian because after going over SLJ's list of 100 greatest children's novels, I realized that were a lot of classics that I haven't read! So I've been on a reading roll and I've been tackling that list! So far I've read the Westing Game, Holes and Because of Winn Dixie and so on.
It hasn't all been Children's classics, I finally got around to reading Maus. Its been on my to-read list for a while. One of my history professors in college always said it was the best narrative depiction of the holocaust. I guess I was on a historic/graphic novel kick, because I also read March by John Lewis. It is about Lewis' experience growing up during segregation and the part he played in the civil rights movement. Its interesting to see such serious moments from history be retold in graphic novel form. Its a format gets scoffed at, but the mix of imagery with text can evoke such emotion that sometimes the written word can't do.
I haven't been in the craft room that much lately. Work has been crazy (more on that later). However I have been doing a few things round the house. I made these snazzy pillows as part of the last
Iron Craft
Challenge.
I also decided to add some greenery into the house. The last few weeks we've gotten some Spring teases but its still to cold for gardening. So I decided to bring the outside in and I made some planters. I found the planters at the Dollar store and I jazzed them up a bit. Then I raided Home Depot for some house plants. It dawned on me that we don't have any houseplants at all! So We needed something! I put them in the dinning room, because it needs some sprucing.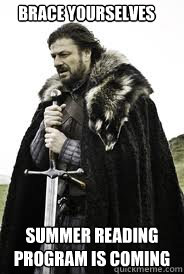 I know Summer is still a few months off, but not for librarians. We started to organize and plan for the summer and it is a pretty daunting task. Some exciting things are happening and I love the theme this year: Fizz, Boom: Read! We are going to do some fun science-y things and I'll be sure to tell ya all about them!
Friday night I got to channel my inner Katniss with an archery lesson. For Christmas Tim got me a voucher good for a lesson and an hour of shooting time at the
Smith Point Archery Range
. It something I've wanted to do for a while and it was a lot of fun. I did archery in High School and I guess some of it stuck with me, because I did pretty good with a few bulls-eyes! The instructor was a really awesome crotchety old man who was impressed. I think I might be investing in a bow.