Hello there! As you know I wear my nerd flag pretty much everyday, but today is about being extra proud of nerdness because its
Geek Pride Day
!
I'll never forget the first time my older brother sat me down when I was little and said, "I'm going to show you this movie you should watch. It's called Star Wars." I've been in love with it ever since. Then fast forward to Junior High when I saw a friend reading Harry Potter. "Pssh, what are you doing reading a kids book?" I teased her until she said "don't knock it until you read it." I called her bluff and not only fell in love with Harry Potter but reading as well. I love loving these things. There's something about fandom's that get you excited and makes you wish you could live in the fantastical world of your favorite characters. I'm proud of my Nerdness and I share it with you today!
I'm celebrating over at my Etsy shop. Enter the discount code GEEKPRIDE at check out and you will get 10% off any listing! The code expires next Saturday, so stock up!
I'm also celebrating by compiling a list of my favorite geek related things that have happened in recent history!
D n' Doin' it! Dungeons and Dragons
This is more of a personal geek milestone. A few months ago a group of friends and I began playing Dungeons and Dragons. After watching Game of Thrones and listening to
Nerd Poker
we decided to get our own thing going! Its a lot of fun and I can't believe I missed out on it when I was younger. We have a fun time playing, we gather around my dinning room table with some drinks and snacks, while playing epic soundtrack music in the background.
Double Doctors!
Who fans have been anticipating nothing but epic for Doctor Who's 50th anniversary. From last week's season finale we have a few ideas about the special, but of course its shrouded in mystery. I almost had a freak out though when it was announced that David Tenant (Doctor # 10) and Billie Piper (Rose Tyler) signed on. Moffat even teased whovians with this pic! I added some romantic flair to it. We have to wait till November for the big special but it will certainly be worth it!
Diagon Alley announced at the Wizarding World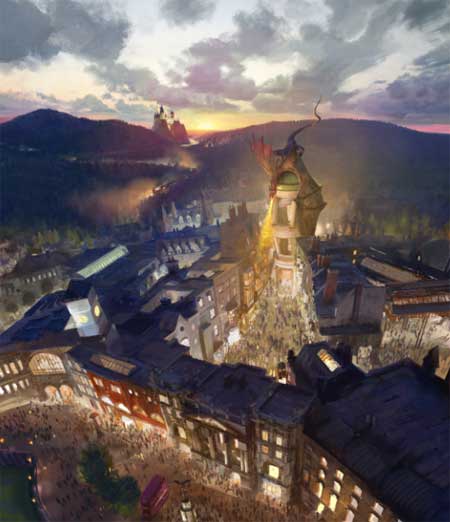 In February I made my second pilgrimage to the Wizarding World at Universal Stuidos. I was super excited to see that on a bridge leaving Hogsmeded there was construction! Since the park opened there has been speculation of an expansion. It was recently officially announced that Diagon Alley is opening in 2014! I was thrilled because even though the Wizarding World is amazing, super detailed and is any Potter fan's fantasy, it needed Diagon Alley! (or as I like to call it Diganilly)
J.J. Abrams signs on to direct the new Star Wars Trilogy
When I saw the Star Trek reboot in 2009 I was blown away. I thought to myself, this is the reboot Star Wars needed and deserved, not those horrible things I will pretend don't exist. After Disney bought the rights to Star Wars I thought it was inevitable that a new trilogy would come out. I was curious to see who was going to do it and glad that its not George Lucas. I thought it definitely couldn't be Abrams, he was already invested in another franchise with 'Star' in the title. Then in a total surprise move, he announced that it's happening with him at the helm. This Star Wars fan mind was blown and super excited! Hopefully there isn't too much lens flare.